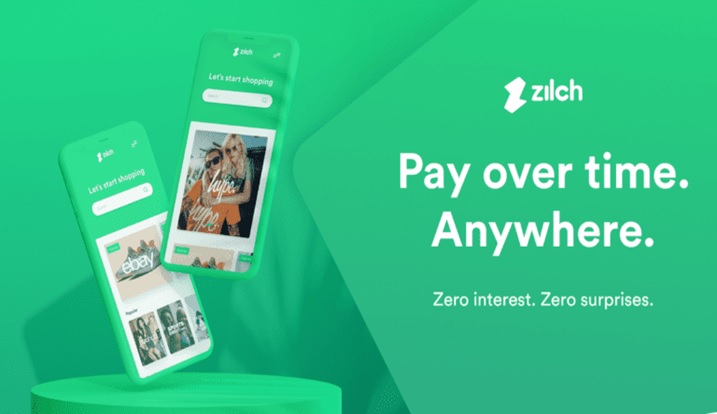 Consumers Can Buy Now Pay Later Thanks to Zilch
Buy now pay later. As modern consumers, it's in our blood. But if you're not careful, you can end up with mounds of credit card debt. What if there were a more responsible way to still get what you want now without paying more for it later? There is.
And people are "paying zilch" when they choose Zilch preferred payment option. Learn what this trendy payment option is all about.
How to Pay Zilch
It's easy.
Download the app on your smartphone.
Sign up.
Make Zilch your preferred payment method on Google Pay, Apple Pay, or Samsung Pay.
Next time you want to buy something, search Zilch first. They partner with thousands of popular retailers and brands (Amazon, eBay, Apple, Nike, Tech, Travel). Online and local stores included. The list goes on…
Choose a partner.
Buy Now Pay Later, no interest, no fees. Use Tap to Pay in the store or pay online.
Yes, we said "easy".
What Happens Next?
You'll pay 25% when you make the purchase. This good faith payment starts your payment schedule. Over the next six weeks, as you get paid, you make the scheduled payments equalling the other 75%. Since many people receive their paycheck every 1-2 weeks, this works great for most people.
In total, you pay 100% of the item's price and not a pence more.
How Can Zilch Afford to Charge No Interest?
Nothing's really "free" and you know it. So how does this company make money if they don't charge you interest or fees?
Brands and retailers want you to buy from them. They know many people can't buy now because they can't afford the total price. But they could afford it if they had the option to pay over several paychecks.
You just need a little flexibility.
They've partnered with Zilch to allow you to pay over 6 weeks. The brand or retailer pays Zilch a tiny fee, so you don't have to. It's a win-win! The retailer makes the sale and you only pay for the item.
On top of that, you earn Zilch Rewards on every purchase.
What If My Favorite Brand Isn't a Zilch Partner?
You can still buy now pay later with ZilchAnywhere. The app charges you up to £2.50, which is the same as an 11.5% APR. That's a low-interest rate for most people.
And because Zilch's 6-week payback policy helps you stay responsible, you're not paying that amount month after month, as you would with a traditional credit card.
Who Can Pay Zilch?
The app is currently only available to UK residents. And as always, T&Cs apply. This allows the company to partner with many UK companies, so you will likely find retailers in your community who partner with Zilch.
Need groceries for a big family dinner, but want to pay over 6 weeks? Your local grocery store may be a Zilch partner. Buy now pay later.
What is Zilch?
Zilch is technically a MasterCard. It just works differently, allowing you to buy now pay later. It's a good choice for more responsible consumers who don't want to get into financial trouble with mounds of debt. That's why so many consumers are making it their preferred payment option.